Maurice K. Goddard State Park
To view a slideshow of park photos, click on "Goddard Photos" at the top of the page.
Mercer County boasts a 2,800 - acre wonder — the lake, wetlands, fields and forests of Maurice K. Goddard State Park.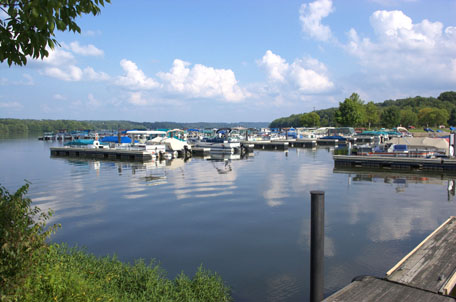 The park marina basks under a summer sun.
Named for the father of Pennsylvania's state park system, Goddard is a perfect place for biking, fishing, boating, and picnicking. It's also close to hunting opportunities at Gamelands 270 and hands-on learning at the McKeever Environmental Education Center.
Founded in 2002, the Friends of Goddard (or FROG) assist the park in many ways: They raise funds for special projects, help coordinate cleanups, and organize the annual Pioneer Frolic the last weekend in June. (The Frolic is a two-day colonial festival complete with reenactments, live music, children's games, crafts, food, and more.) FROG's accomplishments include outreach activities at Venango County's annual Earth Day event and donation of a shelter for the park's 12-mile paved bike trail.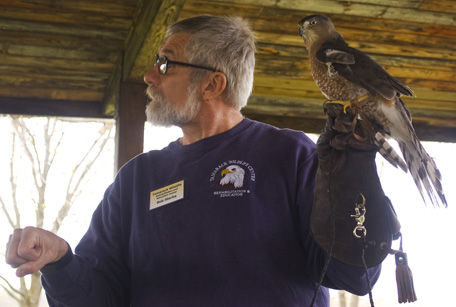 A wildlife educator demonstrates the grasping power of a hawk.
FROG membership is free. Become a "friend" and get involved. Your help is needed with :
wildlife inventories
bluebird and purple martin nesting programs
monitoring walking and bicycle trails
developing ideas to improve the park
the annual Pioneer Frolic
litter clean-up
historic research of the Sandy Creek Valley
wildlife habitat improvements
wildflower gardens and plant inventories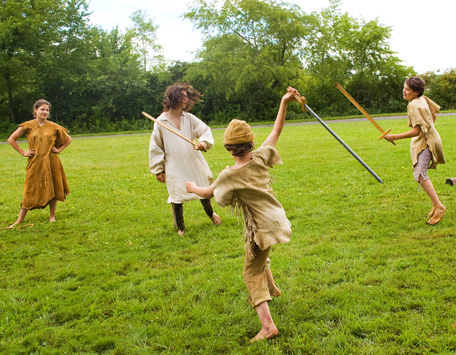 Young reenactors cross wooden swords at the Pioneer Frolic.
The Friends of Goddard State Park meet on the 3rd Tuesday of each month at 6:30 PM at the park office building. We are looking for people with all types of interests, including nearby landowners, boaters, birders, hunters, bikers, and others.The Friends of Goddard are a partner group with the Pennsylvania Parks and Forest Foundation (PPFF).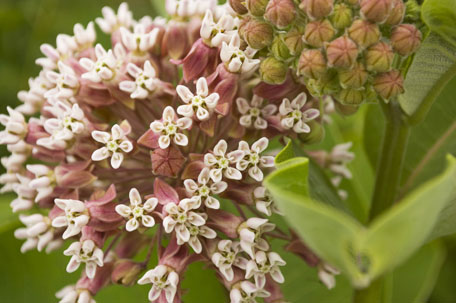 Milkweed and many other flowers grow wild at Goddard State Park.